The Octagon
The Octagon is Dunedin's city centre, an eight sided plaza bisected by the city's main downtown street, George St.
Though first designated "The Square of Moray Place", even in its earliest years, it was colloquially known as The Octagon. Laid out by surveyors in 1846, Moray Place and The Octagon form two concentric streets, a plan remains mostly unchanged, creating a ring of civil and public buildings around a central plaza, including the Dunedin Town Hall, the Dunedin Public Library and Public Art Gallery, St Paul's Anglican Cathedral, a cinema multiplex and various cafes and bars.
Uniquely for an inner city plaza, The Octagon is on an incline, sloping uphill from the ocean. The central pedestrian reserve, bisected by George and Princess Streets, is a paved plaza in its lower half, and grassed terraces in the upper. The terrace is surmounted by an 1887 statue of the Scottish poet Robert Burns, whose nephew Thomas Burns was one of the city's founders. A statue for Thomas was later erected but removed due to its unpopularity in the 1940s.
Running west out of The Octagon, Lower Stuart Street leads straight down to New Zealand's most photographed building, the Dunedin Railway Station.
Featured Octagon Events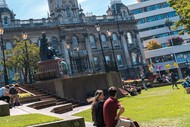 Festivals Events
The Octagon, Dunedin

Saturday 6 February 2021
Join celebrations to acknowledge our national day and our diverse community with kai, craft and musical fun for the whole whānau. Nau mai, tauti mai! Everyone is welcome. Upper Octagon and carriageway from 11 am...
More...
---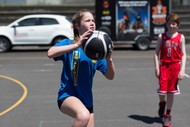 Basketball Events
The Octagon, Dunedin

Saturday 27 February 2021
This dynamic basketball discipline, a.k.a streetball, brings the skills of 5-aside basketball outdoors in a fast-paced format that's easy to play. Entry is free and open to players of all ages. It's easy to be part of...
More...
---
Tour Dunedin

Tour Dunedin Area
Macbay Retreat - Macandrew Bay Holiday Home
- Holiday Home.
Macbay Retreat - Macandrew Bay Holiday Home is set in Company Bay. The holiday home is fitted with 1 bedroom, a TV with...
Taieri Gorge Railway and the Otago Peninsula Day Trip from Dunedin
- Day Tour - Dunedin.
Starting from $199.00 per person
.
Explore the South Island's gorgeous scenery on a full-day excursion from Dunedin. In the morning, travel aboard the...